The Labor Party can't decide whether it wants to mine coal or not. It can't decide if it believes in Climate Change or not. It can't decide if it wants new jobs or not. And it can't decide if it wants to keep a big business it can suck tax money from, so it can put money towards its profligate spending proposals.
The Adani Coal mine is back in the news, as they managed to get the finance Labor was hoping they wouldn't. Now they have a problem.
Bill Shorten already ruled out any deal with the Greens, but he needs the Greens to get his legislation passed.
This is the price everyone pays for electing so many small parties and independents.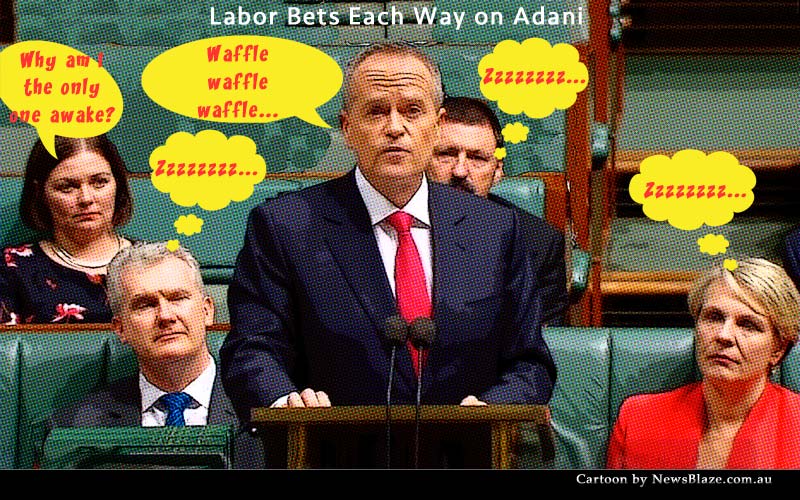 Labor v. Liberal
Michelle Landry is the incumbent Liberal National MP in Capricornia, north Queensland. Landry won the seat in 2013, taking it with a swing of 4.5%, and held it in 2016, with a 0.6% margin.
That slim margin makes it one of the tightest margins in Australia.
The man trying to take the seat from Landry is Labor's Russell Robertson, a local coal miner.
Interestingly, Robertson thinks Labor could work equally with the Liberals or Greens on climate legislation.
In an attempt to appear relevant, Greens leader Richard Di Natale tried to get Bill Shorten to take notice of him, asking Shorten to "work collaboratively" with his party.
Bill Shorten doesn't appear inclined to give Di Natale any air, especially in Capricornia. Shorten says there will be "no coalition with the Greens," but Labor has told that story before.
The "lightning rod issues" for this electorate are climate and coal. It would seem that Labor needs the Greens, but when Kevin Rudd counted on the Greens to get his emissions trading scheme passed in 2009, they declined. Now the Greens are trying to sneak back in with Labor, but even Mr. Shorten knows they are radical loons just trying to get more leverage.
Even though he doesn't want to get pally with the Greens, Mr. Shorten hasn't had to work with a fractious Senate. So his statement that he does "not expect the Senate to stand in the way of our government, if we are elected," will be interesting in practice, if he gets in. He has been all for the Senate upstarts disrupting the coalition's legislation, but he doesn't want them stopping his steamroller.
The Greens only received 4.5% of the Capricornia primary vote in 2016, so they can be safely ignored.
The seat of Capricornia covers 90,000 square kilometres, on the Queensland coast from Rockhampton to just south of Mackay.
Russell Robertson said last week that he wasn't hopeful of negotiating on climate with the Greens, because they were "extremists." He wasn't sure whether Di Natale is extreme, or not, so that means they probably haven't done any planning or preparation.
What is really interesting is that the Labor policy, for all their grandstanding, will not do anything at all about "emissions." That's because their policy allows companies to buy international credits to offset their emissions output.
That shows exactly how much they really care about their policy, which is a joke.
What is very interesting right now, is that the next solar minimum is already starting. Most people don't know what that means. What it does mean is that winters are about to get a lot colder from now and over at least the next 40 years.
To get a glimpse of what is happening, that the ABC and the mainstream media, the Weather Bureau and the government are ignoring, see the story: Forget Global Warming, The Sun Says An Ice Age Is Coming.
Labor is pushing its crazy plan to cut "greenhouse gas emissions" by 45 percent by 2030, based on 2005 levels. The Coalition proposed 26 percent the extreme Greens want 63 to 82 percent. Lost in the conversation is the fact that the planet has been quietly "greening" as carbon dioxide has increased. But Labor and the Greens don't want to hear that. They just want to increase taxes and pretend they're saving the planet.